The Great Contribution of Logistics Roll Container To The E-commerce Industry
Share
Issue Time

Sep 17,2021
Summary
Consumer behavior is shifting all across the world as a result of increased digitalization. E-commerce companies, whether fresh start-ups or large online stores, must compete on more than simply pricing.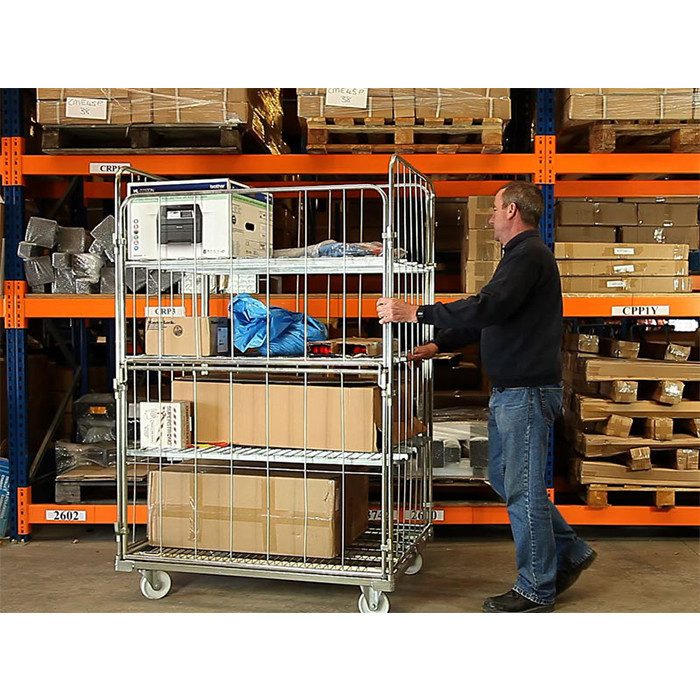 According to current estimates, 90% of global transactions will be conducted online by 2040; Consumer behavior is shifting all across the world as a result of increased digitalization. E-commerce companies, whether fresh start-ups or large online stores, must compete on more than simply pricing.
Customer satisfaction is becoming increasingly dependent on delivery speed. Companies are boosting warehouse space and streamlining inventory to enhance logistical procedures. As a result, intelligent and dependable load carriers are required for effective picking, handling, and delivery in e-commerce. Postal and parcel service providers are operating in an increasingly complex market. How can we minimize the number of time packages spend in the sorting network and increase the facility's overall efficiency?
On its route through a hub, a packet passes through several processes, including unloading, singulation, and identification, as well as sorting. The game is all on speed and efficiency. New research on the post and parcel business sheds insight into the factors that are reshaping the industry.
Collection area
When items arrive, they must be examined quickly and logged in, whether scheduled orders or unexpected returns. To prevent unnecessarily lengthy distances, it is best to establish a mobile workstation right at the unloading site. Furthermore, the items frequently need to be unpacked before other transit. Because they are quickly accessible and have a large capacity, these roll containers are perfect for storing small items such as cardboard boxes.
They are simple to drive, and the ability to nest one within the other saves space. The picking area should not cause excessive delays in the delivery of items. They should move them rapidly to the warehouse for picking, therefore minimizing the size of the picking area. To assist with these chores, we provide various roll cages and transport carts in multiple sizes.
Roll containers for packing in the shipment area
It is always essential to have enough packaging material on hand for packing stations and packing lines. Large and small cartons may be moved swiftly to packing facilities with our transport roll containers, decreasing shipment time.
When products are ordered, they are delivered from a central warehouse to a specific branch and then made accessible for client pickup. Truck loading and unloading are often done rapidly utilizing roll containers that enter the loading area fully loaded. This mode of transportation is suitable for stores such as furniture stores, supermarkets, electronics stores, and apparel stores. We offer several different types of roll containers in our inventory.
Flexible stacking and storage options ensure that particular requirements are satisfied.
Because we have these specific roll containers to fulfill the parcel industry's standards, these characteristics make working in the parcel business easier. All you have to do is get in touch with us to have your preferred containers delivered.
Roll Containers Ideal for Postal Logistics
Roll containers are constructed of mild steel and galvanized iron. The cage's walls might be two, three, or four in number. Its castors can be either fixed or swivel. Customers can also select from a variety of wheel styles. In addition, customers can choose between nylon, rubber, and swivel brakes, depending on their work environment.
The sidewall lining of our roll container ensures that the loaded products are secured, preventing damage to the goods and lowering downtime costs. Unique designs with dimensions and features tailored to the needs of the customer are also conceivable. Additional expenses can be saved since the roll containers can be seamlessly incorporated into the customer process without requiring a system modification.
Are you interested in learning more about our roll containers?
If your industry still lacks this classic assortment of rolling containers, act quickly to place an order. If you want any assistance with these, please get in touch with us at any time. Get the ideal roll cages for your business.
We are committed to creating the highest quality products and
has been constantly meeting the customers' needs, if you have any demand for material handling equipment, pls feel free to contact us.
+86-15040608276 or sales@ystpak.com