Review of Chinaplas Exhibition in April
Share
Issue Time

May 20,2021
Summary
In April, We participated in the Chinaplas 2021 Exhibition held in Shenzhen, China.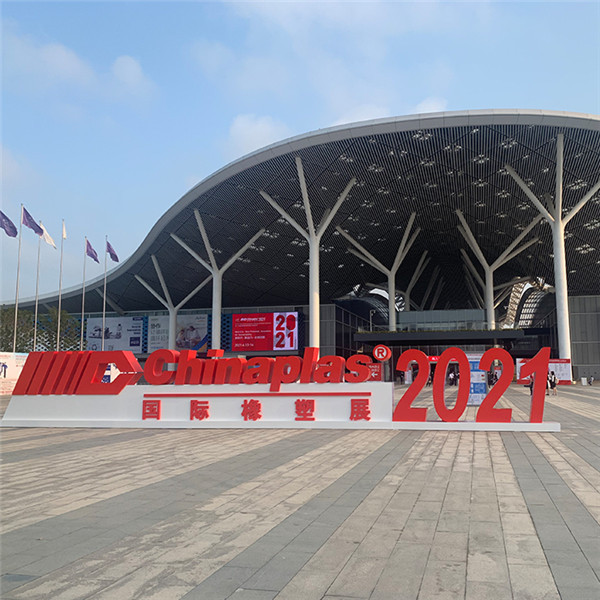 With the growth of China's plastics and rubber industry for more than 30 years, "CHINAPLAS" has developed into Asia's largest rubber and plastics industry exhibition and has played a positive role in promoting the development of China's rubber and plastics industry. At present, "CHINAPLAS" has become the world's leading exhibition for the plastics and rubber industry, and the industry recognizes that its influence is second only to the German "K Show" and has become one of the world's top exhibitions for the rubber and plastics industry.
Since 1987, "CHINAPLAS" has been supported by the European Plastics and Rubber Industry Machinery Manufacturers Association (EUROMAP) as a supporting exhibition. "CHINAPLAS 2021 International Rubber and Plastic Exhibition" will be the 31st consecutive China Rubber and Plastic Exhibition that has won the exclusive sponsorship of EUROMAP.
The 34th China International Plastics and Rubber Industry Exhibition started on April 13, 2021, and ended on the 16th. The venue is located in the Shenzhen International Convention and Exhibition Center. We successfully participated in this exhibition. At the exhibition, we visited and learned about comprehensive automation equipment such as blow molding machines and injection molding machines. At the same time, we introduced our products to customers, such as storage cages and stacking racks.
Storage cage
is a kind of storage container widely used in manufacturing enterprises and large warehouse supermarkets. It is widely used in the temporary storage, transportation, sorting, and storage of raw materials, semi-finished products, and finished products. The function of the storage cage has penetrated into the fields of production, circulation, and consumption, and has gone through the links of temporary storage, packaging, loading, unloading, storage, transportation, etc., throughout the entire logistics process.
Our company produces a variety of styles of storage cages, standard models, heavy models, special storage cages for shelves, etc. The foldable storage cage is suitable for the handling and turnover of warehouse items. It is characterized by foldable joints, space-saving, three-dimensional storage, convenient stacking, sturdiness and durability, and a beautiful appearance.
Post pallets
make an ideal safe storage and stacking solution for busy warehouses, factories, retailers, and a huge range of other industries. Built with steel feet and stackable up to 4 units high, post pallets are strong and forklift-friendly, suitable for the storage and transportation of a vast variety of goods.
Post pallets are a tough and durable alternative to wooden pallets, adopting standard sizing to avoid the need to rearrange your warehouse, factory, or logistics operations.
The next exhibition will be held in Shanghai, if you have time, you can come to the exhibition. If you have any questions about storage equipment, please contact us in time.