Are you looking for this new product flower trolley?
Share
publisher

Mandy
Issue Time

May 12,2021
Summary
Designed especially for general flower storage, display, and easy transportation, and can also be used for many other applications where mobile display and storage is required.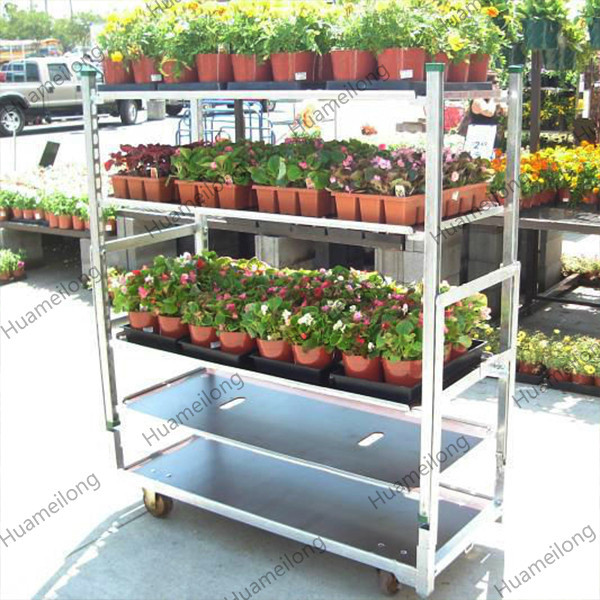 Flower trolleys
are the most commonly used trolleys for logistics purposes in the field of floral art.
It is the best solution for plant and flower exhibitions and transportation. It is composed of different shelves, which can display different kinds of plants and create a powerful floral composition to attract customers' attention.
With these essential carts, the processing of flowers and plants becomes simpler and more effective. Due to the flexibility of the product, operators, nurseries, or garden centers can transport all kinds of plants, and even use them to display plants directly in the supermarket sales area. Carts with adjustable shelves are indispensable for the transportation and handling of plants and flowers. It is made at 1.350x565 mm according to the standard size in the field of flower art. A base made of multi-layer plywood for ships, 4 pillars, and adjustable shelves, with 2 swivel castors and 2 brakes with a diameter of 125 mm, hot-dip galvanized. We can also customize the shelves, such as wire mesh shelves, metal shelves, etc. Our plant trolleys can be adjusted in height. Plant carts are easy to move, so you can more easily replenish store inventory and update sales displays.
Due to its modular features (galvanized columns and movable shelves), the trolley represents the best way to optimize the display space and create a strong green area for the arrangement of greenhouses, nurseries, and florists.
Thanks to its flexible structure, the factory trolley can be easily disassembled into a small part of its size. This reduces distribution costs. In addition, the flower container is tailor-made for plant trays of various sizes, so plants and flowers can be optimally protected during transportation.
What type of plant carts do you need for your garden center? Please feel free to contact us for customization.